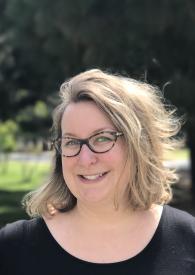 Anne Sufka has been working with the IRACDA Scholars Program and Dr. Holly A. Ingraham since 2016 and has over 10 years of experience in successful personnel management through coaching and mentoring.
In her role as Program Manager for the IRACDA Scholars Program, she coordinates recruitment and retention for the Scholars. She built the customized IDP and organized an intensive meeting with the Director to review their IDPs. She takes care of daily program operations, and communication among all stakeholders in the program. Additionally, she programs monthly career development meetings, creates presentation materials, and maintains the UCSF IRACDA website as well as develops and tracks career progress for all current and past IRACDA Scholars. In the Ingraham Lab, she takes care of the daily lab operations and administration.
This year, Anne is proud to announce Path to Postdoc, a career development program hosted by the UCSF IRACDA Scholars Program to recruit talented postdocs to UCSF.