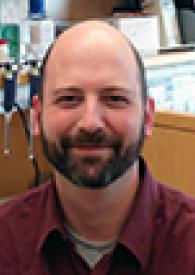 Bayrer JR, Mukkamala S, Sablin EP, Webb P, Fletterick RJ. Silencing LRH-1 in colon cancer cell lines impairs proliferation and alters gene expression programs. Proc Natl Acad Sci U S A. 2015 Feb 24; 112(8):2467-72. PMID: 25675535; PMCID: PMC4345603.

Yang Y, Zhang W, Bayrer JR, Weiss MA. Doublesex and the regulation of sexual dimorphism in Drosophila melanogaster: structure, function, and mutagenesis of a female-specific domain. J Biol Chem. 2008 Mar 14; 283(11):7280-92. PMID: 18184648.

Bayrer JR, Zhang W, Weiss MA. Dimerization of doublesex is mediated by a cryptic ubiquitin-associated domain fold: implications for sex-specific gene regulation. J Biol Chem. 2005 Sep 23; 280(38):32989-96. PMID: 16049008.

Bayrer J, Wan Z, Li B, Weiss MA. Expression, crystallization and preliminary X-ray characterization of the Drosophila transcription factor Doublesex. Acta Crystallogr D Biol Crystallogr. 2004 Jul; 60(Pt 7):1328-30. PMID: 15213406.
As a physician-scientist I am well-positioned to study the basic principles underlying human disease. My training in pharmacology and structural biology uniquely shapes my approach to basic scientific questions through an understanding of protein network interactions and emphasizes the importance of clinical translatability. My clinical training in gastroenterology enables my bench-to-bedside focus on intestinal disorders, concentrating on inflammatory bowel disease (IBD) as a model of intestinal disease. My combined clinical and basic science experiences therefore allow me to bring my research directly to the field of pediatric gastroenterology. My long-term research interests include the study of the role of nuclear receptors in intestinal homeostasis and disease response, with a particular interest in drug development and elucidation of key protein signaling interactions. I utilize intestinal organoids, 3D tissue models of intestinal epithelium, coupled with animal models of human disease to probe the molecular underpinnings of gastrointestinal disease. To further research into pediatric IBD, I am developing living biorepository of intestinal organoids derived from our patients. The advantages of the ex vivo intestinal organoid system are significant and have the potential to transform therapeutic management of pediatric and adult IBD while advancing our understanding of the poorly understood mechanisms involved in intestinal self-renewal and wound healing. I apply this technology to the study of Liver Receptor Homolog-1 (LRH-1, NR5A2), a nuclear receptor enriched in intestinal crypts and a potential therapeutic target for IBD. My work has been recognized at international conferences and attracted interest from industry while also growing collaborations at UCSF and beyond.
Awards:
NASPGHAN 2015 Young Faculty Investigator Research Award; Kenneth Rainin Foundation Innovations Symposium 2015 Poster Award; ACG-CCFA IBD Circle Spotlight 2015 Best of DDW; American Gastroenterological Association, DDW 2015 Poster of Distinction; American Gastroenterological Association, DDW 2014 Poster of Distinction; NASPGHAN 2008 Teaching and Tomorrow Travel Award; Lepow Research Day, CWRU 2005 Outstanding Poster Presentation Award; ShowCase, CWRU 2004 Sigma Xi Award for Poster Presentation; Graduate Student Symposium, CWRU 2003 President's Award for Outstanding Poster Presentation; Claremont McKenna College 1998 Honors in Chemistry; Claremont McKenna College 1998 Honors in Literature; Claremont McKenna College 1998 Magna cum Laude; Joint Science Program, Claremont McKenna College 1998 Top Thesis in the Sciences