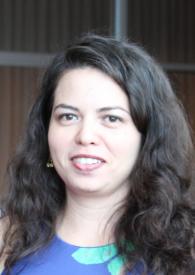 Pastore MB, Talwar S, Conley MR, Magness RR. Identification of Differential ER-Alpha Versus ER-Beta Mediated Activation of eNOS in Ovine Uterine Artery Endothelial Cells. Biol Reprod. 2016 Jun; 94(6):139. PMID: 27170438.

Ramadoss J, Pastore MB, Magness RR. Endothelial caveolar subcellular domain regulation of endothelial nitric oxide synthase. Clin Exp Pharmacol Physiol. 2013 Nov; 40(11):753-64. PMID: 23745825; PMCID: PMC4287270.

Pastore MB, Jobe SO, Ramadoss J, Magness RR. Estrogen receptor-a and estrogen receptor-ß in the uterine vascular endothelium during pregnancy: functional implications for regulating uterine blood flow. Semin Reprod Med. 2012 Jan; 30(1):46-61. PMID: 22271294; PMCID: PMC3674511.
The many roles estrogen plays in women's physiology are the focus of my research. As an early researcher at the University of Wisconsin-Madison, I centered my research in understanding rapid estrogenic effects on the uterine vasculature. Dysfunction in the uterine vasculature is one of the components of Developmental origins of Health and Disease (DoHaD) hypothesis, given that dysfunction in early fetal development can lead to adult-on-set diseases such as obesity and type-2 diabetes.
At UCSF my focus is now to understand the role of the nuclear receptors, estrogen receptor (ER) and liver receptor homologue-1 (Lrh-1), in the metabolic homeostasis of the liver. The increasing rate of obesity has lead to the increase in non-alcoholic fatty liver disease (NAFLD) in the U.S. and worldwide. The ~30% prevalence of NAFLD in the population has become the leading cause of steatohepatitis and cirrhosis. Women experience an increase in NAFLD rate after menopause suggesting a role for estrogen in fatty acid metabolism in the liver. However, the role of either ER or Lrh-1 in fatty acid metabolism is not completely understood and is the focus of my current studies. Dr. Pastore is also currently a UCSF IRACDA Scholar.